Discover differents tips for playing Aviator
Before learning how to play Aviator properly, it is important that you find the best casino to play this game. After multiple tests, we conclude that Casinozer and Yonibet are the two best casinos to play this game.
Casinozer : 100% up to 500€ & 50 free spins
Casinozer is a reliable and secure online gaming platform. It offer on the menu bar, a direct access to the game Aviator. If you want to play, don't wait any longer, go through our link and take off! Casinozer is an excellent online casino, you won't be disappointed.
Register on Casinozer
After the JetX strategy guide we published a few days ago comes another crash game guide. This time, we will talk and go into detail on the Aviator casino game.
Aviator is a game that was created in January 2019 by Spribe, an iGaming products & casino games creation studio based in Great Britain. With the huge popularity of crash games among players, this game quickly became Spribe's flagship product.
How does this game work?
Aviator is a game that belongs to the crash category. This game is a graphic display based on a Random Number Generator (RNG). It takes the form of a plane that takes off, flies higher and higher, until it flies away of the screen. The higher the plane flies to before flying off, the higher the bet multiplier that is attached to it rises.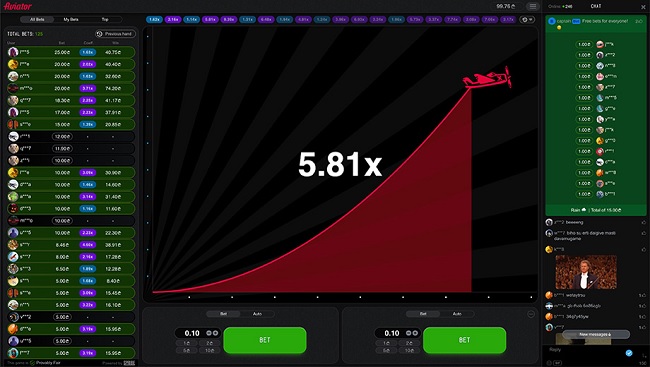 Your goal is to take your winnings at the right moment, before the plane leaves the screen. If you don't succeed, your bet is lost.
What makes Aviator such a special game?
This game is really popular among online casino players, for various reasons. One of these reasons is that you are at the helm. You are the only one to decide when you want to cash out your winnings. You better not be too greedy and cash out before the plane flies away, or your bet will be lost.
Another strong point of this game is its strong social aspect. All players bet on the same plane, but can withdraw their winnings whenever they want. On the left hand side of your screen is displayed the list of current bettors. As the plane progresses, you see when each player chooses to get out of the current round. Will you follow them or take the risk of waiting for the multiplier to get higher?
Like a lot of online casino games, Aviator is all about transparency. This game is random, and a provably fair is there to prove it for any player that would doubt it. You can check this provably fair by clicking on the little green shield icon that is located in the game rounds history.
On which casinos can I play Aviator?
Aviator is a casino game that is available on various online casinos. Here are a few of them, along with the welcome bonus we are offering you at registration:
Bitcasino: 200 free spins on Legacy of Dead
Casinozer: 100% up to 1000€ + 50 free spins
Yonibet: 100% up to 500€ + 50 free spins
100% up to €500 + 50 free spins
Special Offer
How to play Aviator?
You don't have to be an expert casino player to understand the rules of Aviator. It is easier to play this game than to learn the basics of Blackjack, Poker or Craps. Just try a few rounds and you will see how thrilling this game is.
You can bet between 0,10€ and 100€, with two maximum simultaneous bets per round. Each bet is independent. You can choose to withdraw one of them early, and take risks with the second one. The maximum possible win you can expect on a single round is 10000$ (8742€).
Place your bet, wait for the plane to take off and withdraw as soon as you reach a multiplier that you find acceptable. Don't bet too greedy or you risk losing your bet.
What is the best Aviator strategy?
There is no 100% winning strategy on the Aviator casino game. Why? Because it is based on a Random Number Generator. In poker and blackjack there are strategies to help you lower the casino advantage. This game has none, because it is 100% random. The plane can very well crash at 1.01x three times in a row, or fly to 50x, then 40x, then 140x. Nothing is predictable, and this is what makes this game so great.
Of course, if you feel like it, you can try to adopt bankroll and risk management strategies. While these techniques do not ensure wins at every rounds, they could make your session last longer.
One of these strategies is placing a big bet that you withdraw early and at the same time placing a low bet on which you aim for a big multiplier. Another one could just be to play volatile and cash out early. JetX and other crash games strategies can be applied to Aviator. For more information on these techniques and strategies, read our article « How to win at JetX: tips and strategies ».