It's been a few months now that Stake casino has joined Become Gambler. Some of you were asking for a boosted bonus on this casino, and we listened. Are you ready to discover Become Gambler exclusive Stake casino welcome bonus?
Welcome bonus: 100% up to 1000€ on Stake casino
Register on Stake and enjoy an excellent welcome bonus of 100% up to 1000€ (wager x30). What's great about this bonus is that you have no condition to respect at all to reach your goal: completing your wager. There is no max bet restriction nor restricted games. Bet as much as you want, on the games of your choice.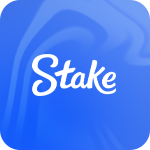 100% up to 1 000€, contact @MadnessSupport on Twitter for it
Special Offer
When registering on Stake from Become Gambler links, you will have instant access to the casino's rakeback functionality. While cashback gives you back a portion of what you lose, rakeback gives you back a small part of the house edge.
How do I claim my Stake casino bonus?
Follow these 6 easy steps to claim your Stake casino welcome bonus:
Register on Stake
Deposit up to 1000€ in the cryptocurrency of your choice
Contact

Madness Support

on Twitter
Follow our instructions
Wait for your bonus to arrive on your Stake account
You can start playing!
It is very important that you do not play a single cent until your bonus is credited to your player account. Just wait, it usually takes around 24 hours because of the manual verification. As soon as the bonus is added to your balance, you are ready to play.
How to deposit on Stake?
Whether you are familiar with cryptocurrencies or not, crediting your Stake casino player account is the easiest thing there is. You have two options to deposit on Stake: using a cryptocurrencies wallet or your credit card.
With a cryptocurrencies wallet, all you have to do is to click on the wallet icon on Stake to display your Stake deposit address. Choose the crypto you prefer, and transfer the funds to this address. Wait a few minutes, and you're good to go!
If you don't have cryptocurrencies on an online wallet or a Ledger, you can deposit on Stake with your credit card. Click on the wallet icon, and then click on "buy crypto". You have the choice between seven cryptocurrencies, that you will buy directly with your credit card. This deposit option is powered by MoonPay.
Why would I play on a Bitcoin casino?
Playing on a Bitcoin casino has a lot of advantages, as long as cryptocurrencies don't scare you. Some of these advantages are instant and unlimited withdrawals, and extremely secured transactions.
For more information on this subject, read our guide « Euro vs crypto casino: which one to choose? »